The Explorer allows you to find and filter the action items, goals and decisions you have created in your meetings.
Click one of the results to view details and edit quickly its content.

We also added some "views" to help you find quickly the most relevant action items and goals to you.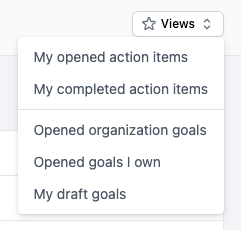 Fixes
Goals are grouped by their type on the home page: Personal, Team, Organization.
Goals can be set as private: only the owners and contributors will be able to see these goals.
Fixed syncing of cancelled meetings with Google Calendar.
Improve loading performance of the sidebar in the Flow view.